After the earthquake disaster of February 6, we are working to heal the wounds with all the resources we have available in the region. We provided shelter, heating, basic food and hygiene support from the first moment on our mobile education trucks (with our Fireflies) in Diyarbakır, Gaziantep, Kahramanmaraş, Antakya, Payas, Malatya, Tatvan, as well as Şanlıurfa Education Park and Adana Learning Unit; We tried to reduce the effects of trauma by organizing various activities with children.
In the following days, other Fireflies moved to Kahramanmaraş, Malatya and Adıyaman and started their work in the region.
What did we do?
• As of today, our 14 Fireflies of which 4 are in the tent citis, and 2 fixed activity centers, continue to support our children with social and emotional activities in 10 provinces of the earthquake zone.
• Our volunteers from all over Turkey lined up to be a with our children in the earthquake zone from the first day, and started their work in the region.
• With our Volunteer Counselor, Family Therapist Yegan Özcan, we provided online training to our 360 volunteers and field personnel, including the principles of psychological first aid, titled "How to Understand the Child in Crisis and Disaster Situations, Not Harm and Healthy Communication".
• We received more than 500 applications for our psycho-social support volunteer call. Our volunteers who will work will carry out psycho-educational studies with our families and teachers within the area of our Firefly.
• Our Field Management and Education Program teams visited all our activity points in the region on site. Visits to the region from our head office will continue.
• With the donations collected so far in our TEGV Earthquake Work Fund campaign, which we opened on February 11, we have ensured that 2,660 children receive quality education.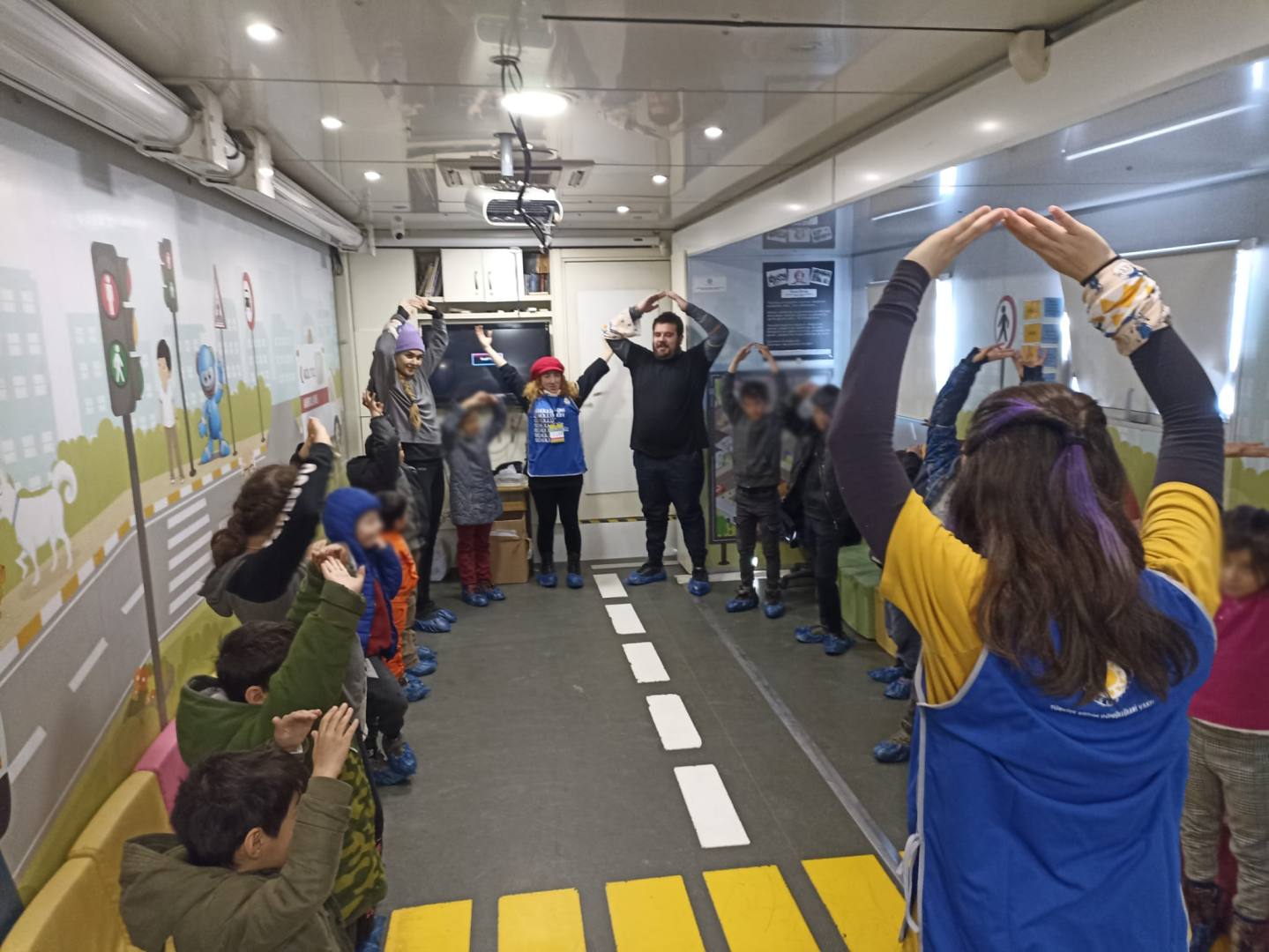 Our volunteers Berfu and Eser Yenenler joined our volunteers Bilge and Arzu, who were the first to go to the region, and visited our Traffic Firefly in the tent city of Malatya.
What we will do?
• Our 5 Fireflies will soon head towards the region and start meeting with our children. The number of Fireflies in the region will be 17.
• Our corporate donor, TIRSAN, has started working on the construction of 2 new Fireflies.
• TEGV activity points will be established in container cities.
• We are receiving requests for the construction of a new Firefly from many of our supporters. With the completion of the manufacturing processes of our new Fireflies and joining our fleet, we will be able to reach more of our children in the region.
• The tablet campaign we plan to launch with your support will enable our children to access distance education.
• Our educational activities will continue in order to raise earthquake awareness in all our children at 55 activity points across the country.
We will continue to work resolutely in the disaster area with our valuable volunteers and your support in order to make our children in the earthquake area smile again and offer them a hopeful future.
You can visit our donation page to help more children in need of quality education meet with education.
On behalf of all our children, we would like to thank our education friends who supported us with their donations.
Communication Guide with Children Affected by the Earthquake
The "Communication Guide with Children Affected by the Earthquake" prepared for our field volunteers by the FlowQ Family Therapy Center, which voluntarily supports our Psychosocial Support activities, has been an invaluable resource for parents, family elders and teachers to benefit from.
You can find the guide here.

TEGV Traffic Firefly - Malatya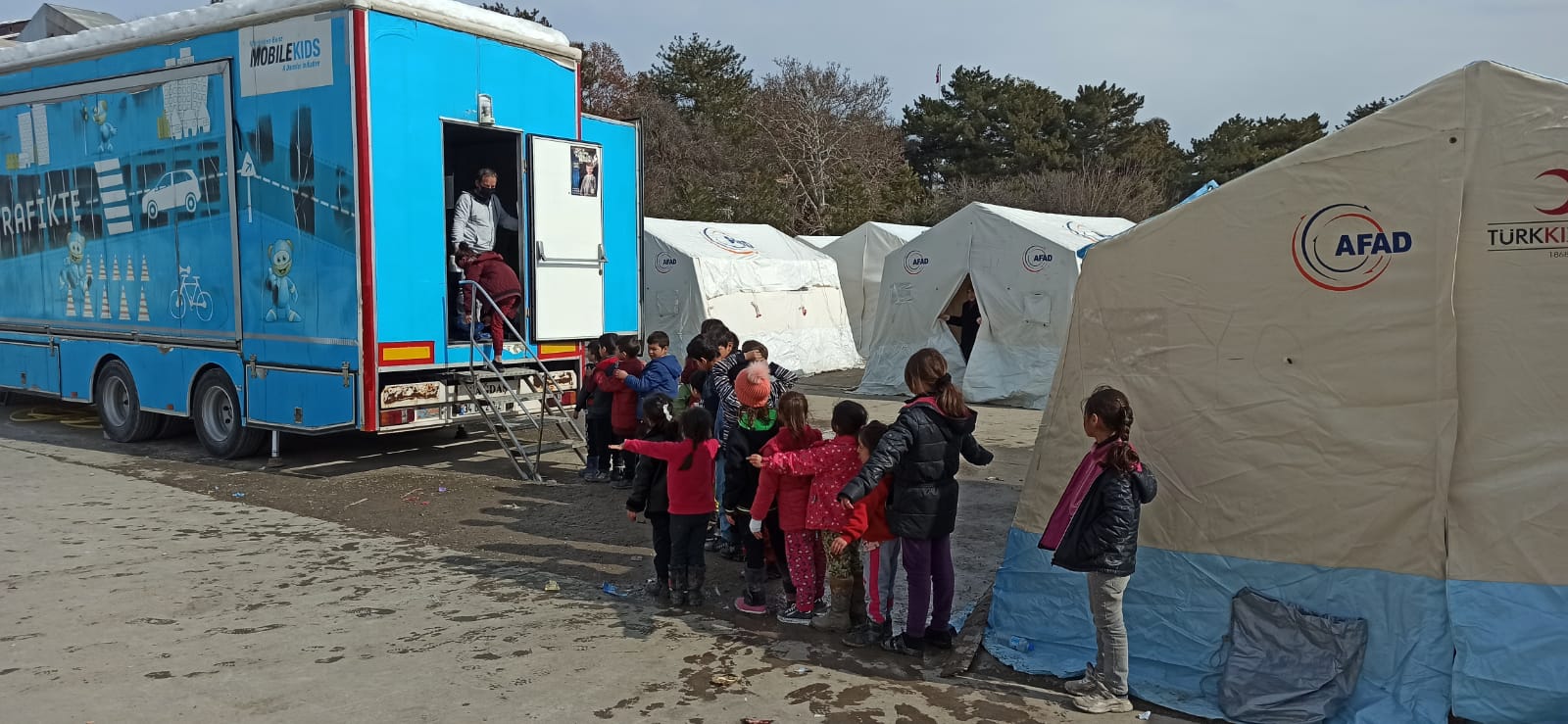 TEGV Adım Adım Informatics Firefly - Kahramanmaraş